London Coworking Spaces: 7 Inspiring Spots For Your Ideas
What to do in London if you are a young person looking for inspiration? You can pick up under 25 car rental London and explore iconic parks, architectural masterpieces, and other local sights. Another option is to go to one of the many coworking spaces in the British capital. 
Coworking space is the best place to bring your ideas to life. Each has a relaxing environment that will allow you to reach your full potential. 
If you have been searching for such a workspace, then you are in the right place. So, hire a car in London, explore the best coworking spaces in the city, and you might want to stay there, and achieve your business goals!
TechHub London
Address: 1-15 Clere St, London EC2A 4LJ
Pricing: £390 per month for a fixed desk with 24/7 access
When driving your hire car in downtown London, be sure to check out the TechHub located a short drive from Old Street. It's a coworking space for tech entrepreneurs and startups. Besides London, TechHub has spaces in Manchester. 
The coworking's partners include Google, Adobe, and ZenDesk. TechHub provides a 100Mbps Internet connection, mobile tables with a bunch of sockets, coffee, meeting rooms, telephone booths made of shipping containers, whiteboards, flip charts, and lockers. 
Before becoming a resident, you can book a coworking tour, get to know the coworkers, hosts and feel the atmosphere. When you apply for membership, you will be asked about your product or service, as well as what you want to get from the coworking space and what you can do for the community.
Events are often aimed at meeting and communicating. The presentations held in the TechHub help entrepreneurs to get acquainted with investors, and introduce their projects.
The Office Group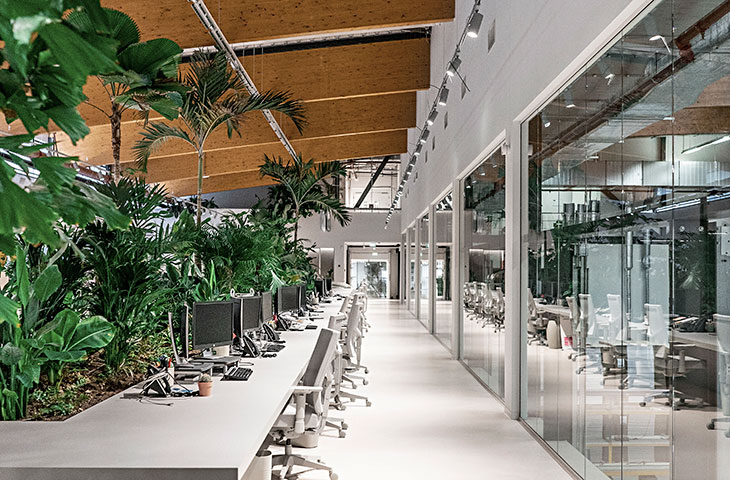 Address: 12 Red Lion Square, London WC1R 4QH
Pricing: £425 per month for 24/7 access to lounge and study areas
The Office Group is located in central London, in an imposing building erected in 1925.  You will surely notice it when driving by in your hire car. 
The designers decided to make the reception area the most spectacular – they framed the wooden reception desk with a geometric stepped structure. An active tile pattern on the floor complements the impression. 
Another unique space is the lounge. It's perfect for people working in the building to be disconnected from their work. Light colors, sisal carpets, minimalist furniture are conducive to relaxation. In the centre of the room, there's a cozy light installation.
The rest of the coworking spaces combine the simplicity and convenience needed for focused work. They include meeting rooms, a bar and a kitchen, and cozy offices.
The Cube
Address: Commercial Street 155, London E1 6BJ 
Pricing: £45 per month for 12 hours 
This coworking space is located in the eastern part of the city. Here you can feel the rich atmosphere created by numerous events – from small masterclasses to large-scale conferences. This is a great place for designers, scientists, artists, engineers, futurists, technologists, and anthropologists looking for a way to get inspired. 
Through innovative labs, events, and one-on-one mentoring, the Cube brings your wildest ideas to life. The minimum entrance fee is £45. This package allows you to use the office for 12 hours per month.
The Trampery Old Street
Address: Commercial Street 155, London E1 6BJ 
Pricing: £45 per month for 12 hours 
The coworking space is located near the Old Street underground station. This is a top-class office with a high degree of comfort. It has everything you need for productive work: a table made of natural oak, soft light wooden chairs, and numerous indoor plants. 
To relax, go to the gym, bar, library, rooftop terrace, music room, or meditation studio. There's also a meeting room, dining areas, showers, and a parking lot where you can leave your hire car. One downside to this coworking space is that it doesn't work on weekends.
Third Door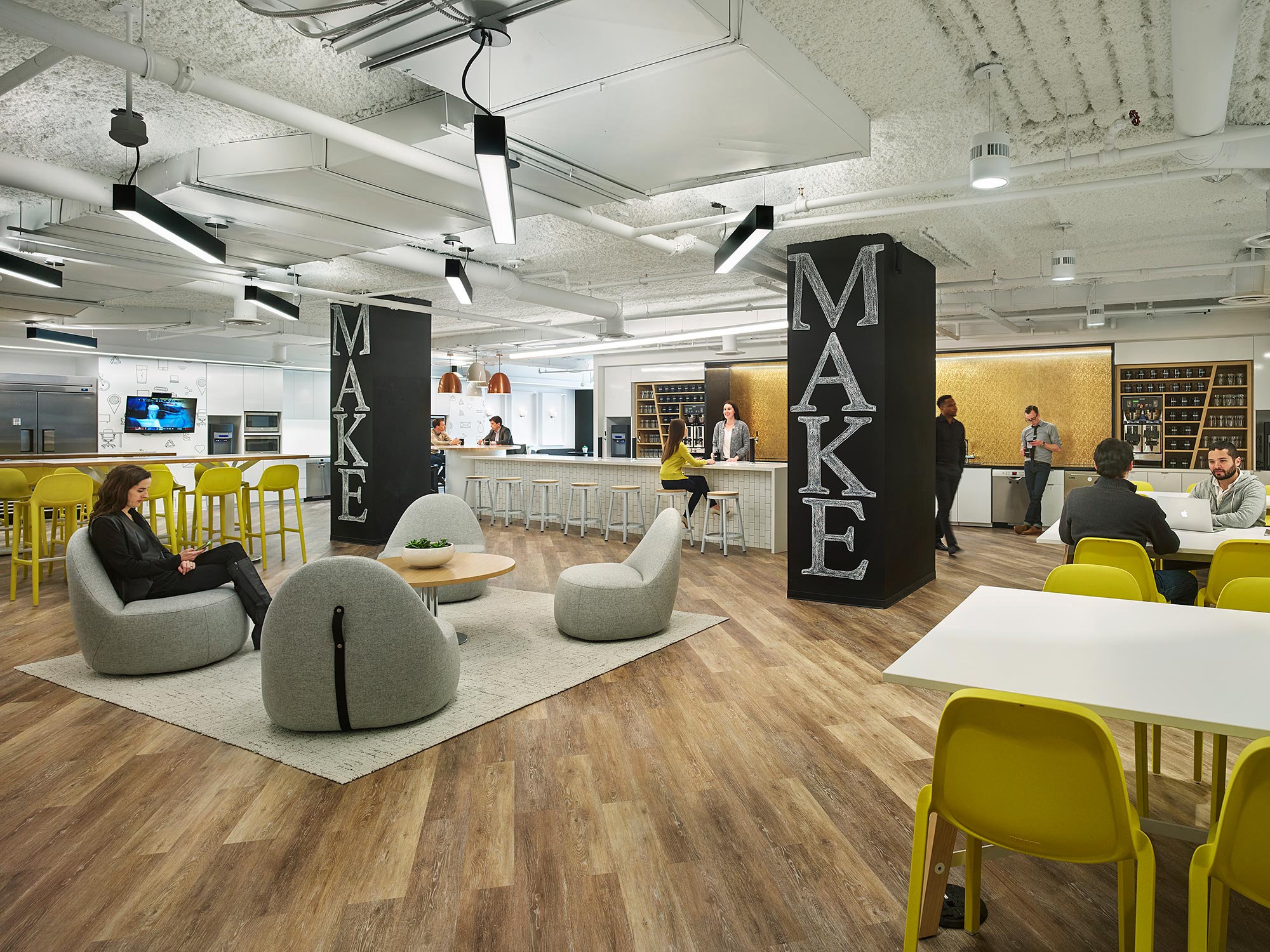 Address: 16 Point Pleasant, London SW18 1GG
Pricing: from £12 per hour, £ 390 per month for 30 hours of visiting
A coworking centre in one of the quietest and greenest areas of the English capital combines office space for adults and playrooms for their children. This is not an ordinary children's room, where the kid watches cartoons or plays with toys, but a full-fledged interactive space with nannies, professional teachers, and psychologists working according to the Ofsted and EYFS programs. 
The club is aimed at creative professionals – application developers, designers, architects, and pleases with an informal, relaxed atmosphere. The interiors are stunning, with marble floors, bronze fixtures, and intricately finished ceilings.
The Hoxton Mix 
Address: 3rd floor, 86 – 90 Paul St, London EC2A 4NE
Pricing: £400 per month for membership with 24/7 access 
The location of the office is Paul Street. This is a new modern building that is typical of a coworking space. Like many of the other establishments mentioned, the Hoxton Mix doesn't look like a sterile and uninspiring office. 
Wooden tables and an abundance of living greenery contrast with concrete, steel, and glass details. You can settle in silence in numerous secluded spots. Spacious studios and social spaces such as an open kitchen and a library will allow you to relax. The Mixer events regularly held in this area help startups find investors.
Innovation Warehouse
Address: 1 E Poultry Ave, London EC1A 9PT
Pricing: £150 per month for 10 days, £250 for a 30-day access
The Innovation Warehouse is located in the heart of London and is easily accessible with your hire car. It's an interesting mix of a coworking space, incubator, and accelerator. Here you can meet entrepreneurs, startups at any stage of their development, as well as mentors and investors. 
Its investment team is happy to welcome those whose business is related to e-commerce, Mobility, AI, B2B, FinTech, but is also ready to cooperate with anyone who has great ideas. Collaborative tables, separate workstations, interview and conference rooms – everything you need to work is right there.